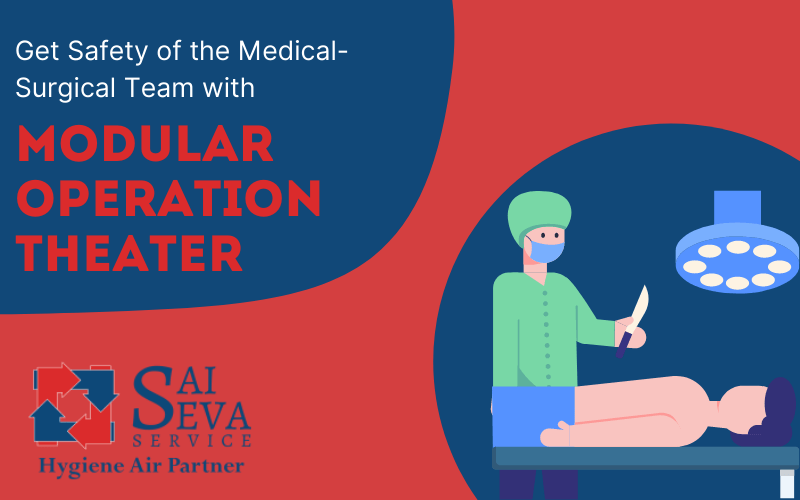 Get Safety of the Medical-Surgical Team with Modular Operation Theater
posted by:

wp_sai

No Comments
Modular operation theatre manufacturers in India are investing their bets on modular operation theater as the medical industry is moving towards adopting modular approaches. It is a designing approach in modular cleanrooms systems using standardized units for fast constructions and flexible arrangement. Apart from this, modular OTs are cost-effective, efficient in avoiding contamination, customizable, easy to maintain, time-saving, among other things.
Major components of modular OT system
The ceiling and the wall: As the name suggests, modular Ots are a free structure of panels made of steel and glass. The inside wall of the OT is painted with a 200-micron coat of paint. Modular ones come with sufficient room for easy operation procedure and storage of operation machines and equipment, etc. The four corners are allocated for the air duct. Every joint and cavity must be filled with epoxy and sanded flush to provide a smooth surface.
Laminar airflow unit: It is basically an airflow unit in which the flow lines are steady with uniform velocity and aligned with each other. It helps to control the temperature and humidity of the room, controls the movement of the air so that airborne bacteria contamination is less, and also helps in removing and diluting the waste anesthetic gases used during operation.
Pendants: They are flexible and convenient for positioning medical gas pipelines, equipment, and tools at various heights and distances. They are the providers of electricity, medical gas, data joints, selves, and drawers for equipment, medical devices, and accessories.
Light: The lights fixed on the ceilings provide illumination and brightness in excess of 1300 lux which is necessary for minutely detailed surgeries.
Airtight sliding door: The airtight sliding door uses less space than conventional doors or hinges and helps to maintain the correct air pressure inside the OT. It has wheels to run on a nylon platform to avoid scratching the floor. It works either manually or automatically controlled.
OT control panel: t fixed on the wall of the OT, consists of 9 control panels such as medical gases, equipment, ventilation system, etc.
Anti-static flooring: Anti-static flooring inhabits ESD which is the heart of static electricity when a charged person or surface comes in contact with another object.
Why is a modular-operation theatre needed?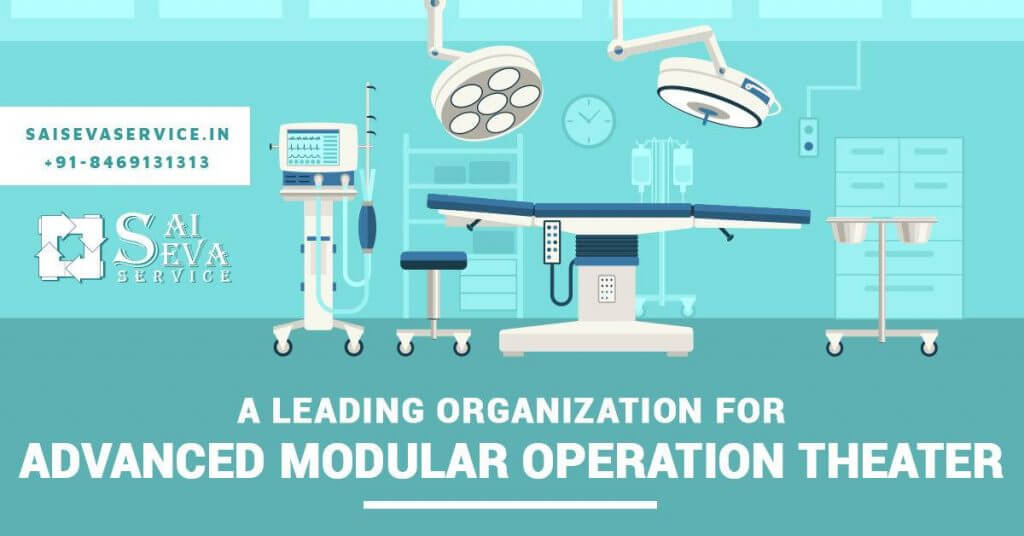 Sterile environment: Modular OT flooring is non-porous, seamless, and easy maintenance. The OT controls the infestation of any bacteria, microbes inside it, thus requiring less-frequent disinfestation.
Activity management: Modular operation theater is needed for concealed wiring, a medical pipeline system, better lighting to operate under efficient lighting, bigger floor space for top-notch equipment, and free movement of medical staff.
Aesthetically pleasing: This type of OT maintains cleaner air quality and efficient ventilation, LUX level lighting, and is installed with different colored walls and floors to make the workplace environment better.
Factors to keep in mind before installing modular operation theatre
As modular OTs are free structures, they can be easily expandable in the future.
They should be installed only in sterile, frictionless, secluded zones of the hospitals.
AHU of the OT should not be linked with anything, especially air conditioning. It should only be used on its own.
The airflow of the air-conditioning inside the OT should be within 19-21 degrees celsius with a 0.3 micron HEPA filter.
Windows and split air condition should not be installed inside modular OTs as they breed microbial growth due to their convenient pockets.
Materials used for the wall and ceiling panel should be stainless steel panel or glass panel, high-pressure laminate panels, PUF sandwiched panels.
Reasons why surgeons and medical staffs rely on glass material
The modular operation theater manufacturers are moving toward glass material for the ceilings and walls due to its heavy demand by medical professionals, architects, and designers alike. Today, glass stands for sophistication, modern design, hygiene, and safety. It can be infused in designing nay spaces. Glass is the new sensation for modular OTs as it does not wear out, is stealthy, durable, functional, low maintenance, eco-friendly, scratch and shock-proof, and see-through.
Conclusion
With the pandemic situation still not under control, hospitals around the world need quickly installed, easily maintainable, cost-effective, flexible, spacious OTs. At Sai Sheva Service, we manufacture and install modular OTs in hospitals across the world, specifically in India. For more queries regarding this join our website today.