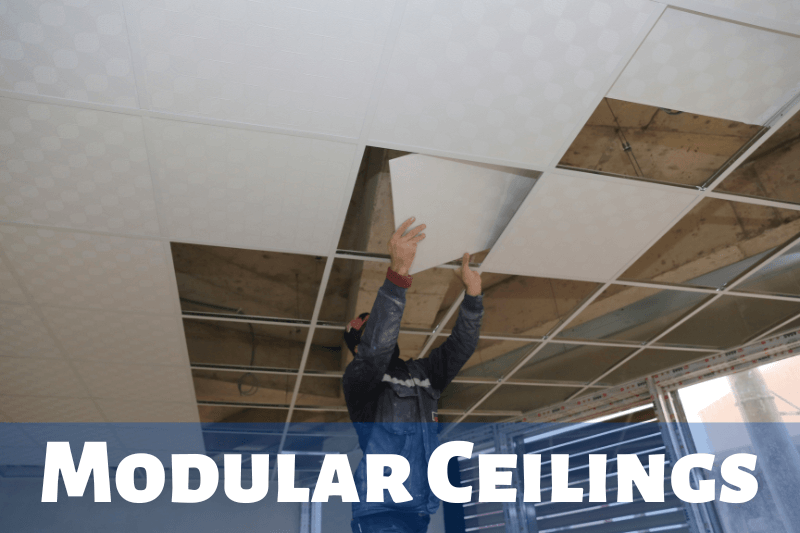 What are Modular Ceilings?
posted by:

wp_sai

No Comments
If you reside in a building, it is difficult to picture a home without a ceiling. They are necessary for dining areas, bedrooms, and even kitchens. As important as they are, it is to understand the various types and suitability of each room in which they are being installed into. Modular ceilings assist in enclosing and dividing areas, controlling the dispersion of light and sound inside a space, and preventing the transfer of sound across spaces. Having high ceilings gives regular rooms the appearance of being expansive.
Additionally, they offer greater room for décor and often more natural light and ventilation. However, the additional air volume in the room may make it more challenging to heat or cool.
What are Modular Ceilings Made Of?
Modular ceilings are made out of pressed metal tiles that join to a concealed substructure to provide a finished, smooth appearance. The O.R. and the ceiling area above are hermetically sealed by a neoprene gasket that is located between the tiles and the substructure.
This might be the last thing people typically see when they enter a building or room, but indeed it is seen. A modular ceiling will improve the interior design of the space, which determines its aesthetics if you want a ceiling that commands attention while still serving its purpose.
Your modular ceilings may be made to be fire-resistant as well. They are also able to conceal other services like ducts, pipes, and cables; they may also be able to accommodate building utilities like vents, lights, sprinkler heads, and so on.
If you plan to install a modular ceiling, get expert recommendations from Sai Seva Service, a reliable modular ceiling supplier in India. Call +91 8469131313.
Modular False Ceiling
The modular false ceiling can be installed in any place like offices, buildings, and even in rooms. Such ceilings can be customized according to your will and requirements. Besides, you will also experience enhanced soundproofing and easier access to structural parts with brighter rooms.
False ceilings are a further architectural feature that not only enhances the beauty of the space but also increases its energy efficiency. It is a strong yet lightweight plastic that has many uses.
The modular false ceilings are waterproof, more effective, and long-lasting in high-moisture locations like balconies, bathrooms, and basements than gypsum false ceilings.
PVC Laminated Ceiling Panel
Polyvinyl chloride or PVC false ceiling planks are stylish elements for interior spaces. PVC is suitable for both residential and business settings. The planks can be abe included as a wall or a false ceiling cladding material.
PVC laminated ceiling panel is a superior choice due to its extreme strength and durability. Years can pass without the ceiling bowing or warping. PVC ceilings are not fragile like traditional POP ceilings and are not harmed when handled.
The planks can be placed at any angle to curves, horizontally, vertically, diagonally, or across any neighbouring planes. Teak Wood, Pine Wood, and White are just a few designs and colours available on PVC boards.
In both residential and commercial structures, PVC panels are frequently utilized as a cladding material for ceilings. Since it is formed in a factory, the finish is seamless, and it can be created in a variety of shapes, colours, sizes, and lengths. Each PVC panel has a glossy outside and a hollow inside.
Conclusion
The designs and pattern of the modular ceilings are surely going to grab your attention with their superior look. Depending on their intended use, modular false ceilings can come in a variety of forms.
These ceiling tiles utilize diverse materials to offer a variety of purposes. False ceilings can be categorized mostly according to the materials that were employed. Each substance has certain benefits and drawbacks. A mixture of materials can provide both practical and aesthetically pleasing characteristics.