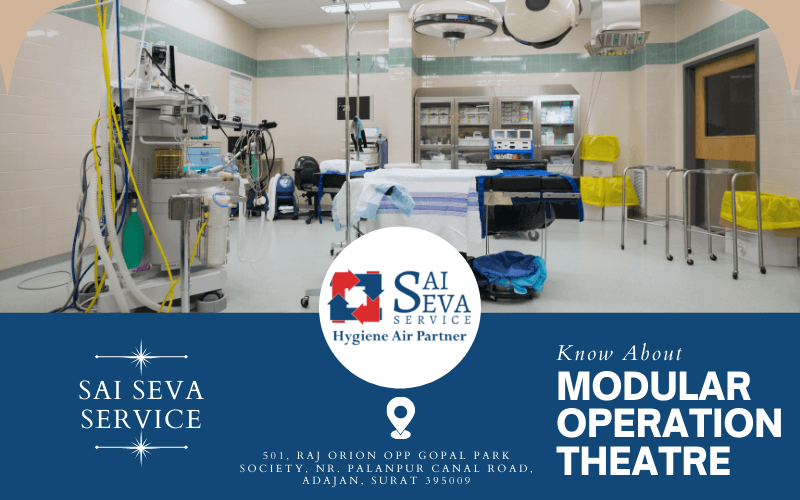 Important Things to Know About Modular Operation Theatre in India
posted by:

wp_sai

No Comments
Know About Modular Operation Theatre
With evolving technology, the medical industry is ditching regular operation theatres for modular operation theaters in India. This is not without reason. Modular operation theaters have a concise design, integrated functionality, level of cleanliness that conventional operation theatres cannot match up to. This is why more hospitals and nursing homes are investing in them with time. Sai Seva Service, a major modular operation theatre supplier in India; has adequate manpower to design, manufacture, install, commission, and validate the theatre across the country.
What is a modular operation theatre?
It is a compact and highly sterilized setup containing particular air filters to control the airflow system within. Some specific types of air conditioning and air handling units are used to maximize protection against contaminants to increase the physical safety of patients. The walls and ceilings are made of pre-engineered panels and the floors are chemical resistant and antistatic making the operation theater easier to install and clean.
YOU MIGHT ALSO LIKE:
Get Safety of the Medical-Surgical Team with Modular Operation Theater
Why hospitals are opting for them?
The primary reason modular operation theater manufacturers are making a name for themselves in India is due to the augmented patient safety facility in modular operation theatres. Along with this, these operation theatres are easier to install and the setup ensures that all the necessary surgical pieces of equipment are within an arm's reach. Every component of modular operation theatre is made from premium quality materials making them extremely durable.
Essential components that make operating a modular operation theatre easier
Operation theatre control panel
Surgical scrubbing station
X-Ray viewing screen
Ceiling mounted laminar flow
Important features of the control panel of modular operation theatre
Wall or modular mounting
Operation theater control switches
Hands-free telephone
Stopwatch timer
Real-time clock
Inbuilt temperature, RH, differential pressure display unit
Integral sensor
Differential pressure display unit with inbuilt integral sensor
Medical gas alarm system
Benefits of modular operation theaters
As the very name "modular" suggests that everything from floor to walls, ceiling, furniture, and the operating table comes included in a package.
The optimum level of cleanliness and sterility of the modular operation theatre is ensured. The paint used in the OT does not let bacteria infest within and remains sterile without any issues for at least 15 years.
The seamless and sleek design of the OT makes it hard for the general public to ascertain where the OT begins and ends.
The perforated grills of the OT keep the highly efficient particular filters protected.
Angiographic features like fluoroscopy and robotic x-ray arm installed in the modular OT help first-time surgeons to take instant images which help them during operation for real-time assessment.
Multiple procedures can take place at the same time within a single modular operation theatre. So multiple patients can receive multiple procedures without being shifted multiple time to various locations which save them money.
Doctors specializing in various areas can work together in a modular operation theater in complicated operations with ease for its premium quality equipment.
As the modular operation theatre is set up in a single room, the medical staff and doctors can handle any complications or emergencies immediately which reduces the health risk of the patient.
Conclusion
Modular operation theatres are the only way forward in today's world as various procedures can be done at once under one roof. Sai Seva Service designs, manufactures, and installs modular operation theaters across India in various hospitals. Contact us on our website for a free estimate and download our brochure for further information.